Let's Take a Look at a Manga Lover's Dream Subscription Box
Anime is one of the most popular forms of entertainment in a growing sub-culture in love with Japan. And yet, we sometimes forget the origins of so many good anime, Manga. But there's one box that reminded us of our roots, one that we subbed to for a year, and followed every single crate that arrived at our doorstep.
2017 was a great year for manga. If you take a look at our blog, we started following Manga Spice Cafe from its very beginning in March 2017, reviewing each book, snack, and drink.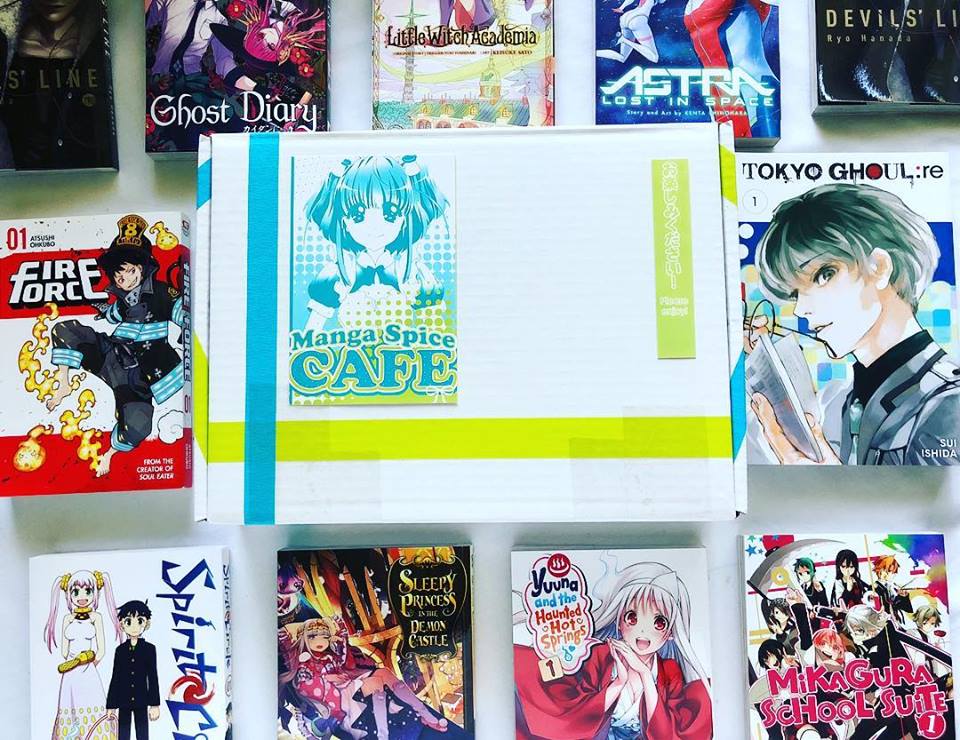 What is Manga Spice Cafe?
Manga Spice Cafe is like a manga lover's dream subscription box! It's modeled after manga cafes, which are mainly found in Japan. When you step inside these places, you'll find shelves holding a large collection of manga to sift through and explore all types of genres. There are also small cubical-like rooms with couches to cozy up in. And when the munchies sneak up on you, the cafe is stocked and ready with Japanese snacks to eat such as chips, Pocky, etc. plus noodles and warm dishes, cold drinks, even soft serve ice cream! All of this can be found at a manga cafe, and also, in your monthly Manga Spice Cafe box.
It's an awesome little box, priced at $39.95, and shipping out around the end of the month and arriving during the first week. It comes with 3 brand new, recently-released manga books, 3 – 5 Asian snacks, and 1 special drink. We say "Asian" because they actually provide a mix of Japanese, Korean, Filipino, and Chinese snacks, and more. Manga Spice Cafe box also has a nice "maid cafe" touch to it as well — a cute anime maid character greets you upon opening the box. These maids often times "pack" the box based on their fun or unique personality.
The maid can be found on the included info sheet, which gives a bio of each manga artist associated with every manga in your box. In addition, the sheet highlights one of the 3 artist whose work really shines, plus it explains the added snacks and drink, and will even include games and contests.
OK, so now you know what this box is all about.
Now let's get to the year's review!
(This is a summarized review, to read each of our full monthly reviews in order, start here)
Box 1 – March 2017
Packed by: Maid Mei-chan
Anonymous Noise
A romantic comedy with a twist, the heroine is imperfect, bold, and charming for that reason. The art is fun, edgy, soft, and beautiful.
Ghost in the Shell
Not necessarily new, but with the new Ghost in the Shell live action movie coming out that month, it was a great inclusion. Also had color pages too!
The Legend of Zelda: Twilight Princess
Great edition to a Zelda fan's collection. The art is gorgeous!
Hokkaido Matcha Milk Candies
Hokkaido is an island in Japan known for its dairy and cream. These hard candies transported us straight there with its smooth, creamy texture and its light taste of green tea.
Nice Choice Strawberry Cake
Different kind of "cake". A traditional Chinese cake that's flaky on the outside w/ sweet strawberry filling on the inside.
Kracie Poppin' Cookin' kit
We get to try our hand at being a maid too, making lovely desserts. Yummy when chilled in the freezer.
What did we think?
For the first box, this was a great start! We got a sweet mix of action-themed and romantic manga paired with a nice collection of Asian snacks. There were only 3, but the Poppin' Cookin' kit made up for the value, along with Ghost in the Shell, (which is a pretty pricey classic manga). Loved it.
Box 2 – April 2017          (MONSTERS & THE OCCULT)

Packed by: Maid Neko-chan
The Girl from the Other Side – Siuil a Run
Beautiful storybook style with black and white contrast. Very unique story as well!
Kasugai Apple Gummies
Went well with Siuil a Run since it was set in a forest. Really juicy and rich gummy. Definitely a favorite!
Hi-Chew Sours
Not all that sour actually, but chewy, fruity, and delicious. 2nd favorite!
Interviews with Monster Girls
Charming, even if there may be hints of harem starting, it wasn't bad. Love all the monster girls. It's quite a funny read as well.
Chocolate Banana Pocky
Least favorite snack in the box, probably due to the strong artificial banana flavor. But some may like it. It's a nice size box which adds to the box's value. Sweet.
Boruto
Good artwork. Naruto is a classic, Boruto might be a new favorite. But chances are for the average Naruto fan, it's a story that you will either love or hate.
Green Tea Kit Kats
Green tea can have a very bitter taste so this caught us by surprise. It's actually very very yummy. The most enjoyed item in the box.
Melon Ramune
We've had Ramune before, but only the grape and original flavor. We had no idea how this was going to taste, esp. since melon didn't sound very appealing. But it was delicious. Where has this Ramune been all our lives?!
Ippei-chan Yakisoba Japanese Style Noodles
Wow, what a strange combination of flavors, but it grew on us.. FAST. Mustard and spicy mayo over yakisoba noodle. Yum.
What did we think?
This was a strong box, probably the strongest of the year! Nice, sizeable AND tasty snacks, that all went well together. Also the monster theme was great. All the books matched the theme and were a good mix of genres. Siuil a Run was a great example of exploring manga very different from the norm and it was a refreshing addition to the box. Good job Manga Spice Cafe!
Box 3 – May 2017  (DRAGONS & SCALY CREATURES)

Packed by: Maid Mayumi-chan
Dragon Ball Super
Super was a really fun manga to get into, it's humor and action reminiscent of it predecessors. (Dragon Ball Z) Plus the style is spot-on. It was great to see the classic characters are still around.
Dragon Ball Z Ramune
Ramune is a light and fizzy drink, much lighter than American soda. Anyway, this is definitely a delightful collectible. It taste like your average Ramune, but having Goku or the Z team on it adds to the excitement.
Cookies & Cream Pocky
Probably one of the best regular pocky out there. It's not impossible to find in the stores, but it's something you can't deny if offered to you because it taste pretty darn good.
Nongshim Honey Twist Snack
Honey and apple flavored snack. Sounds good right? It actually reminds us of eating cereal right out of the box.
The Water Dragon's Bride
This story was surprisingly dark given the soft, simplistic shojo style used. Was an emotional read and worth a try.
Nobel Chibi Soda Candies
When they start to dissolve in your mouth, the Chibi Soda candies release a sweet, fruity and fizzy sensation in the mouth.
Nobel Super Cola Candies
Extremely sour and make you pucker like crazy. Eventually the strong lemon flavor cools down into a cola flavored fizzle.
My Girlfriend is a T-Rex
Just the idea of it is hard to imagine! This is one story that you know has got to be too ridiculous not to read. We did, and it was actually quite funny and entertaining. Highly recommended.
Puccho Soft Candy Chews
Limited edition, 4 flavors, Blueberry, Ramune Soda, Grape, and White Soda.
Yegam Chips
Not pictured here, but very good. These chips were baked, not fried and they had a yummy slightly sweet taste to them.
What did we think?
May box was a real treat to unbox. Classical favorites along with some fun and fizzy snacks that made us feel like we were under water. The manga selection was yet again a nice mix of genres, perfect for the picky manga reader, especially since all 3 books were enjoyable with entertaining stories.
Box 4 – June 2017                  (FANCY & UNUSUAL)

Packed by: Maid Mei-chan
Sake Kit Kats
Not only do they taste like sweet sake, but they have real sake alcohol in them! You can feel the slight tingle on your tongue. 10/10
Welcome to the Ballroom
The most unexpected book so far, a shonen manga about ballroom dancing. Highly dynamic art and exciting story.
Milk Hello Panda
Classic Japanese snack, creamy milk-flavored filling inside a crunchy cookie with pandas printed on them.
Komomo Confiserie
The personalities of the characters can be a bit abrasive, but the manga artist's style and use of screen tones are lovely. It's a gorgeous little manga worth checking out.
Lychee flavored Jelly Cups
There was little pieces of lychee within the jello, floating in sweet syrup! Yum!
The Royal Tutor
Had the potential to be a typical bi-shonen story, but ended up being a hillarious ride with four princes whose personalities are QUITE different from the usual attitudes of bishonen-focused manga. Well drawn manga.
Orion Tiramisu Soft Cup Cake
Yummy soft cupcake. Tiramisu cake is coffee flavored and this was a nice reminder of the real thing.
Chin Chin Pearl Milk Tea
Tasty, slightly creamy tea with tiny boba pearls at the bottom. Perfect for enjoying with our cake.
What did we think?
We felt fancy! Another strong box from Manga Spice Cafe, as the "fancy" manga really fit the theme, while serving us a balance of action, romance, and comedy — a winning combination! We got to enjoy a fabulous lunch of yakisoba noodles paired with a little bit of sake chocolate (unique and tasty!), cake, cookies, and jelly, and we washed it all down with a surprisingly delicious milk tea. 10/10
Box 5 – July 2017                                 (FIRE & MAGIC)

Packed by: Maid Miho-chan
White Heim
Cream-filled wafer snacks from Korea, that tasted like hazelnut and vanilla ice cream. 10x better when you freeze them!
Pineapple Gummy Candies
This brand of gummy is surprisingly juicy with rich pineapple flavor.
Behind the Scenes!!
How can we describe this? …a hyperactive manga! It's humorous though and has unexpectedly charming moments.
Good Good Eat BBQ Cube
Super tasty, this dry noodle snack was coated with BBQ seasoning. Very savory.
Hi-Chew Cherry Berry Mix
Hi-Chews are addictive! The chewy taffy-like texture paired with the rich fruity, berry flavor was fun for us to eat.
Black Clover
We realized this manga's main character has similar intentions to many shonen manga characters before him. "Become the greatest." But we don't care, it's still a solid story with good action and humor. And quite frankly, this is what your typical Shonen manga is all about.
Delicious in Dungeon
Now THIS is not your typical manga. And this is why we loved it! Can't defeat your enemies, then eat them. Brilliant. They even have realistic recipes of monster in this! The art was also quite nice.
Every Burger
A mix of white chocolate (the "cheese"), milk chocolate (the "patty"), and sesame seeds (stuck to the cookie "bun"). These miniature burger-like cookies tasted strange at first but quickly grew on us.
Coconut Ramune
We had no idea how this was going to taste, even though we happen to like coconut. This was not bad, though the flavor isn't too strong.
What did we think?
We totally got the sweet vibe of summer from this box, with its tropical and BBQ related snacks. And we got nice big bags of treats to eat, not those half packs of stuff that other boxes include. They're still mixing it up with the manga as well, which we like to see. Action, comedy, and quirkiness. Nice play on the idea of "magic" with Behind the Scenes. The best book hands down was Delicious and Dungeon. 10/10
Manga Spice Cafe had a great start last year! So far we've only covered half of the boxes. Part 2 is coming up real soon. Stay Tuned!
If you want to get monthly boxes for yourself, visit mangaspicecafe.com to subscribe!